Do you need the best online reputation management company Brooklyn has to manage negative business reviews?
Would you take your business to a store you have never heard about? Would you purchase large home appliances from electronics store you know nothing about?
The same is true for brands like yours that carry out business online. Running a business is not easy, especially in times when one review or comment can garner attention from hundreds of your potential buyers. People no longer rely on Yelp or YellowPages only for checking the business reputation. Reviews are everywhere on Google and social media.
What is the role of an online reputation management company Brooklyn has for you?
Reputation management helps a business monitor the consumer's perception of a brand on social media and exclusive review sites. How you react to the positive as well as negative reviews affect your sales directly. Reputation management consists of more than review management, but reviews play the most active role in crafting a positive impression of any business in Brooklyn and NYC.
Consider the review below. It could not only harm the reputation of the owner but even threaten lawsuits and closure of a business in the long run. That is how powerful reviews and reviewers are.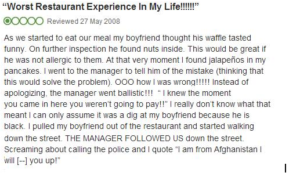 You need a wholesome solution for your less-than-perfect reputation. So, let us begin by considering the basics of reputation management for an NYC business.
Who has given so much power to online reviews?
Online reviews have been around for a while, but they have never had the power they have right now. Reviews maintain a direct relationship with your brand's SEO. You can blame their increasing importance on the rampant use of mobile devices and reviewing apps. Anyone who visits a restaurant in New York City can comment on its quality of food and services on Zomato while eating his meal. The ability of these apps to post publicly and make these comments visible to like-minded consumers only makes the situation tougher for businesses. Always remember, if you can see the negative reviews, anyone can!
Social media listening, do you still need an ORM service?
Whether you run a family-owned business that has been there for generations, or you are the owner of a hipster café right outside the city, it is always the right time to hire the best online reputation management company Brooklyn has to offer. The internet gives equal precedence to positive and negative reviews, making it imperative for the respective company owners to respond to each on-time.
Many businesses do not consult an online reputation management company NYC fosters because they use social media listening tools. These do help you monitor brand mentions on Facebook and Twitter, but these mentions are not the same as the formal star ratings. For example, you may have already seen the official star ratings on Google and Facebook. These star ratings contribute to a final "score." They add up and directly contribute to your brand's visibility on Google search engine results pages against your brand search terms.
Is your customer reading about your business on the web?
As of 2019, more than 68% of all consumers check the reviews for businesses in their locality. If you are running a business out of Brooklyn or NYC, you can be sure that the majority of your potential consumers are online right now, looking for companies similar to yours! Further breakdown of the stats reveals that over 25% of the buyers above the age of 55 years are not keen on reading online reviews, but more than 95% of the buyers between the ages of 18 and 34 years always read online reviews.
What age group does your business target? Do you cater to an exclusively young and hip clientele? Then be sure that there is no escaping the brunt of bad reviews. Any business in the Brooklyn and NYC area that has a young client needs to be extremely careful. On the other hand, if your business serves a different age group, you can still take the implementation of your reputation management strategy a little slow right now.
Is a negative review the end of the road for a business or brand?
When you see your first negative review, one of the two things can happen – you can break into cold sweats and begin apologizing profusely for the less-than-ideal experience. Or, you can go into complete denial and ignore the review altogether. None of that might be useful for your business reputation. What your business needs are smart damage control and witty responses.
Irrespective of the tone and language of the review, the best decision is to respond. Contrary to what most businesses tend to believe, more than 40% of the negative reviewers have changed their stand after they received an appropriate response from the concerned companies. Now, the question is – "what is the appropriate response to online criticism?" What makes matters more difficult for many entrepreneurs is that some of these negative comments are uncalled for. Yet, not responding can turn away potential buyers since more than 89% of consumers read a business's response(s) to reviews.
How can an ORM company help you manage the reputation of your New York business?
An ORM company Brooklyn, or NYC can help you plan for the unexpected lousy rating and review in advance. These are teams of experts, who have probably dealt with all the adverse situations you are about to face during your review management. They will help you prepare documents and inventories for such incidents, and draft an appropriate response for all types of comments, both positive and negative.
Having a dedicated team tracking the reviews is a blessing for a business that is too busy with scaling up and looking for new investors. If your company in the area is getting questionable reviews on social media and Google, you need to take a closer look at your staff training, general etiquette, cleanliness of the establishment, and ambiance. Most of the time, a little added attention to staff training and sensitization is all that is necessary to ward off negative reviews.
What secret do the ORM companies use to overpower a negative comment?
Responding to a condescending or criticizing review is never easy. It is essential not to lose your cool or become too emotional while responding to a critique. The internet stores everything forever. So, you need to be tactful while addressing the issues online. It is alright not to address a misunderstanding, but instead of going head-on about the issue, you can offer a free dinner (for hospitality-based services) or any other complementary service to correct the wrongs.
The best part of working with a leading online reputation management company Brooklyn or NYC has is the assurance that even if you fail to come up with a solution, you have the best of the best professionals doing it for you.
Do you know? More than 33% of all consumers who have received a response to their negative review changed it, and 34% deleted the incriminating post. It speaks more than any number of positive reviews you could sponsor right now! A friendly and understanding tone is all your consumers need to hear to feel more positive about your establishment. It is about making each of your clients feel important. Each reviewer deserves visibility and recognition.
 Respectful responses
When you go ahead and accept your mistake and offer to make amends, you are treating the customer with respect he or she deserves. Studies show that consumers who receive respectful responses to their posts and reviews go back to the place of business and give them higher ratings. A recent Harvard Business Review showed that hotels on TripAdvisor, which had poorer-than-average scores, often started gaining better ratings and reviews when they began responding to their guests' comments on the app.
On the other hand, restaurants and hotels that responded rudely or curtly to negative reviews saw their profits go down. More than 50% of the consumers who receive negative comments against their negative reviews never go back to the same business again. That could mean million-dollar sales for the medium and large companies in NYC and Brooklyn.
Is there a way to remove a negative review or a bad rating?
The key to defeating a negative review is not by condoning it, but by crafting a quick response. It is critical to remember that your statement not only visible to the reviewer, but also clients of your business. Maintaining a highly successful business demands foresight and calculated moves. Most importantly, you cannot delete reviews and ratings from most third-party review sites, which is why almost all leading B2C companies in NYC and Brooklyn invest in ORM services and social customer strategies.
In addition to managing online reviews, your ORM partner should be able to keep tabs on your target consumer's feedback. They can come up with personalized and constructive ways to appease your customers, both existing and potential. Additionally, they will help you create a trustworthy and prominent social media presence for your company on all possible social channels, including Facebook, Instagram, Twitter, and YouTube.
Where does the implementation of reputation management strategies begin?
To begin implementation, you need to focus on a review platform. Where are your reviewers most active? Is it Yelp, Zomato, Google, Facebook, TripAdvisor, YellowPages, or Manta? Tens of review platforms are highly active today, but where do your consumers frequent? Your choice of ORM Company New York should narrow the number of sites down depending on your niche, target audience, and customer demographics.
One of the fastest and most effective ways is to make a list of all the review sites and prioritize them in the order of how many reviews go online on each platform per week or month. Pay close attention to the tone and content of each review. If you are a local business, do not forget to consider Google My Business. GMB is one of the critical review platforms that influence the traffic flow to any enterprise within a small locality. In a highly competitive setting like NYC and Brooklyn, every business must be cautious about what their customers are saying about them on GMB.
Why do you need an online presence?
The web is where all the consumers are! By 2021, almost 230.5 million people will have shopped online. More than 92% of shoppers research stores, brands, and products before spending their money. More than 72% care about what other customers have to say. Do you really want to take the risk of not being in control?
If you don't have a GMB profile, it is not too late to start. You can set up your business account all by yourself also. Verify the ownership of the business, contact details, and address of the establishment. Since the owners receive the confirmation via postage, the entire process can take a couple of days.  you can focus on the description of your business for the knowledge panel and the SEO strategy of your brand. Also, do not forget to claim your company listing on TripAdvisor and Facebook.
In 2018, Facebook changed the settings necessary for posting reviews and recommendations. the social media network also changed reviews into recommendations. Nonetheless, don't be fooled by the new terminologies and specs. The older star ratings are still very visible , and the viewers can view your star rating out of five-stars.
What should you do?
Mobile phones and access to apps have given the consumers limitless powers in the form of reviews. Positive reviews can act as traffic magnets for both online and land-based businesses. Some companies in NYC and Brooklyn have made a fortune by managing their reputation carefully in the last two years.
According to a Harvard Business School review, a business that experiences a one-star increase in Yelp ratings can enjoy between 5 to 9% increase in profits.
Similarly, a negative review can eat into your profits. Over 76% of job seekers actively avoid companies with bad press. A single bad review has the power to stop more than 40% of consumers from doing business with you.
Now,  if you want to be prepared the next time a negative reviewer hits your reputation or if you're going to succumb to poor sales figures.
Low-profit margins each time a displeased customer uses Yelp or Zomato. Working with an ORM company can give you keys to prosperous future where no worries about dinged online reputations exist.