Google offers lots of services to the web users for free, yet they are one of the most profit making companies in the world. The credit behind their supreme success and profitability can be dedicated to paid searches. Google makes money from PPC ads, but today if you search for a product or service on Google, you will notice a major change. The PPC ads displayed on the right-hand side of the SERP are completely gone. In fact, the SERP looks somehow hollow as the right side is blank. What does this mean for the digital marketers and SEO professionals? Let's find out.
PPC ads will rule
Google removed all the PPC ads from the right side of SERP and it is a global change, meaning whether you are searching from www.google.com or www.google.co.in or www.google.co.uk you will not see anything on the right side.  However, the fact is securing organic search ranking is going to be even more difficult after this recent change made by Google. Instead of 3 paid results on the top of the SERP, now there are 4 ad results to compensate the lost right side space, earlier dedicated to paid results. Organic results are pushed down below on the SERP and the above the fold section is completely dominated by PPC ads.
Organic results are not gone
While PPC ads may dominate the above the fold space, the good news is that there are more organic results below the fold. Now you get 9 organic results and some news related results when you search for something on Google. For instance, I searched for "Paris Hotels" in Google and obviously Google understands that my intention is to book a room. So, the SERP looks like this-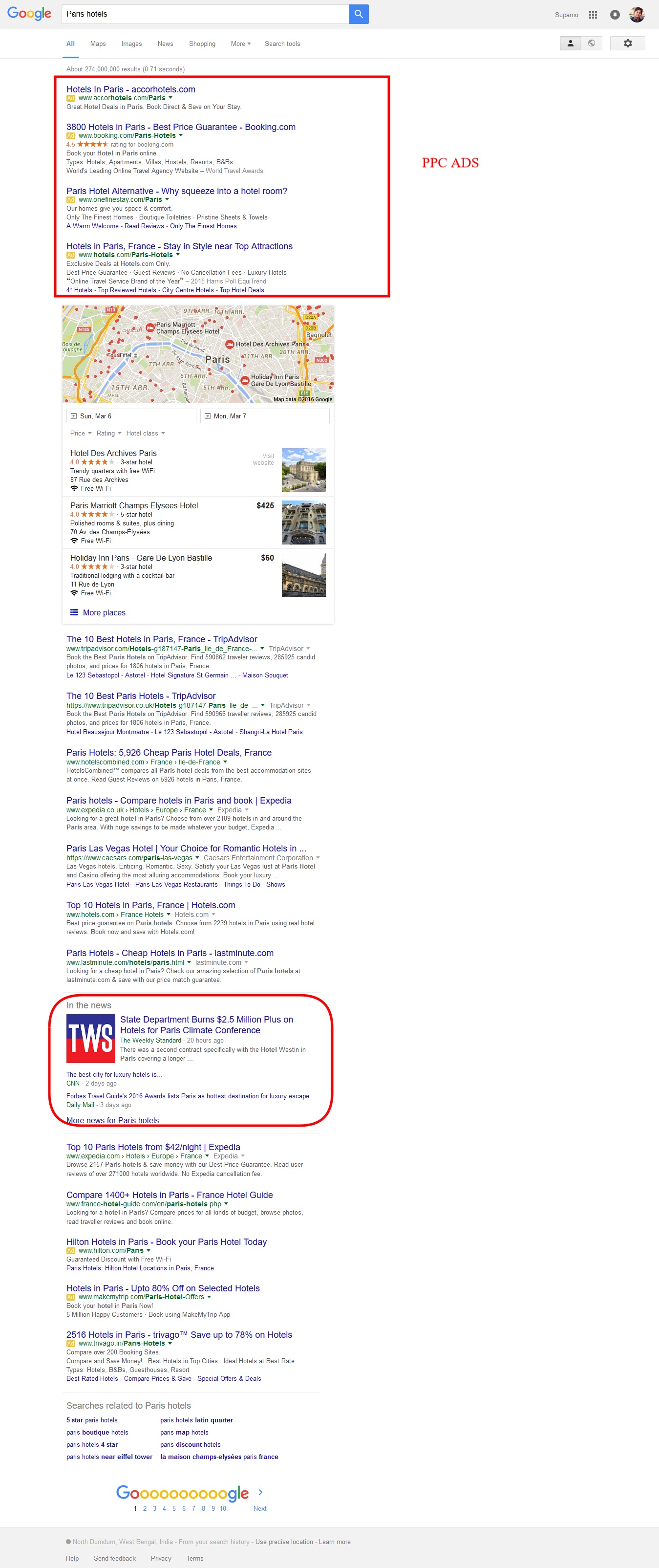 It is all about money
As you can see from the image above, organic results are still there and interestingly news articles are getting a place on SERP for even commercial search terms. However, there is no doubt that it is a money-making move by Google as the world's biggest search engine wants to boost its revenue by selling the coveted spots on page 1. Besides, since the ads are now displayed just above the organic results, millions of novice web users will click on them thinking that it is "what Google thinks best for users". Consumers will not even realize that those top 4 results are secured by big brands because they spent millions of dollars on AdWords.
What about usability and end user experience?
It seems that Google is not too worried about user-experience and hopes that end users will soon embrace the new look of the SERP. In fact, paid ads are not just on the top of the SERP, the bottom of the page is also occupied by the PPC. Check the image above and you will have a fair idea how ads have cluttered the SERP. Organic results are basically squeezed in between paid results.
Fasten your seatbelts
While the news may generate fear among ethical SEO experts because now paid search will make their job much more difficult and may make organic ranking a thing of the past, if you work in the SEO industry, then you must accept the change and work hard to get noticed by the target audience. Organic search ranking has always been a battle against paid searches and you need to keep fighting. Although, since PPC ads have captured above the fold area, you must target the top 3 spots below PPC to grab the attention of your target consumers.
Conclusion
Google is the most powerful and popular search engine. Hence, whether you are an end user or an SEO professional, you must accept what Google is offering to you. Right now, PPC ad marketers should be the happiest souls because companies are now forced to invest more money in ad campaigns to maintain conversion rates.